DISCLAIMER: FANDUM FEATURES RANDOM SHORT OR LONG FAN/PARODY COMICS BY SKETCHBOOKSAGE. I DO NO CLAIM OWNERSHIP OF ORIGINAL CHARACTERS.
Killer Smurph
A parody fan comic I started in 2009 based around characters from the original cartoon and some added on. Original smurf characters were created by cartoonist Peyo Culliford. This parody is incomplete and it will not be worked on any further .
Powered by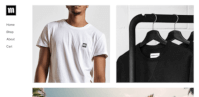 Create your own unique website with customizable templates.